TCL 55 inch P615 Ultra HD (4K) LED Smart TV with Dolby Audio (55P615)
With the TCL Ultra HD (4K) LED Smart TV installed in your home, you can enjoy an immersive journey into the world of global entertainment with stunning visuals, 4K clarity, and rich surround sound. Equipped with HDR 10 technology, this Smart TV delivers an impressive picture quality with a high resolution, while the Dynamic Color Enhancement function uses a proprietary algorithm to make the visuals pop on screen. With a sleek and elegant design, this Smart TV will complement the aesthetics of any home effortlessly.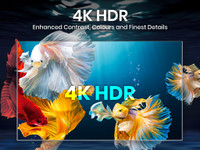 Immersive 4K Resolution
The TCL Ultra HD (4K) LED Smart TV offers an incredible resolution of 3840 x 2160 pixels and reproduces natural colours, different shades of light, and accurate details for an immersive viewing experience. As a result, your favourite TV shows, movies, and any other content will be visually enriched and a delight to watch.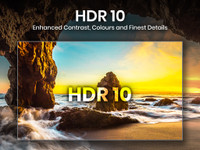 HDR 10 Technology
This Smart TV's HDR 10 technology enables a dynamic scene-by-scene adjustment to provide an adequate contrast ratio with a wide colour gamut. This way, you can enjoy watching any scene, including action-packed chase sequences or adventurous journeys, with impressive picture quality.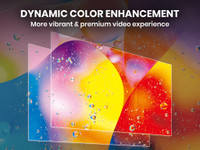 Dynamic Colour Enhancement
Using Dynamic Colour Enhancement (developed by TCL), this Smart TV intuitively enhances the colour vibrancy and expands its colour palette using a proprietary algorithm. This function optimises the visual content, enabling a rich viewing experience.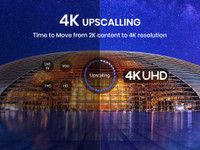 Enjoy 4K Entertainment
This Smart TV's proprietary algorithm upscales any 2K or FHD content to 4K resolution for a pleasant viewing experience. It enhances non-native content in real-time to provide a suitable screen format in high resolution.
Micro Dimming
The Micro Dimming function of this Smart TV intelligently adjusts the dark and bright areas of the visual content by analysing it in approximately 1,296 zones. This feature adjusts the picture quality, so that dark or less bright scenes appear rich and clear.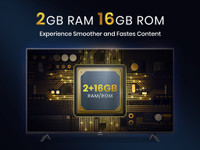 Smooth Browsing and Quick Feedback
This Smart TV is equipped with 2 GB of RAM and 16 GB of ROM for ensuring a smooth browsing experience with prompt feedback that will keep you hooked to the world of global entertainment.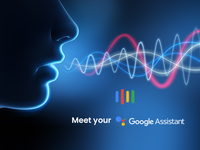 Inbuilt Google Assistant
With an inbuilt Google Assistant, this Smart TV lets you control and manage its functions using easy voice commands. This allows you to quickly tune in to your favourite content, get answers to your questions, and do more effortlessly.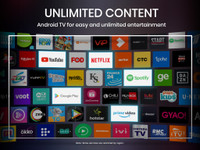 Access to Limitless Content
In collaboration with OTT partners worldwide, TCL gives you seamless access to abundant video-on-demand channels and streaming platforms, such as ALTBalaji, Jio Cinema, Disney+ Hotstar, ErosNow, and more. Hence, you can choose from a plethora of categories and dive into your choice of content at any time.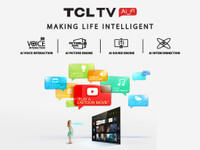 All-in-One AI Platform
Be it searching for a new TV show or getting information about a trending movie, this Smart TV featuring TCL AI-IN (all-in-one AI platform) lets you do all of that just by using your voice. Additionally, you can connect your TV with your Google or TCL-enabled smart home devices and also switch it on or off using simple voice commands.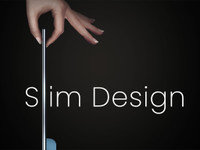 Sleek and Elegant
Featuring a sleek design, this Smart TV adds a touch of elegance to your home with a beautiful panel and striking design. It will match the splendour of your home decor while offering a gateway to global entertainment.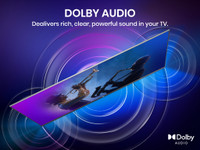 Dolby Audio
This Smart TV offers rich 3D audio quality for Dolby exclusive content that will fill your room with a wave of sound. Plus, its Dolby Atmos technology matches the glory of blockbuster movies with theatre-like sound that ensures an immersive audio-visual experience.